Post a video to the Session Comments for feedback from your coach.
As an athlete, you'll be able to share videos with your coach for feedback on your form. We encourage you to post videos regularly so you can get credit for your hard work and keep progressing!
There are 2 places you can share videos:
Post a video through TH Chat, for general form check
Post a video to Session Comments, when it's related to a specific session
Here we'll cover how to post a video to the Session Comments, when the video is related to a specific session. To check out both options, click here.
Post a video to Session Comments:
For form check videos that are specific to a particular session, we recommend posting those to the Session Comments at the top of the training session.
Posting to the Session Comments at the top of your session will share the post with your coach and teammates, if you're on a team.
Here's what that looks like: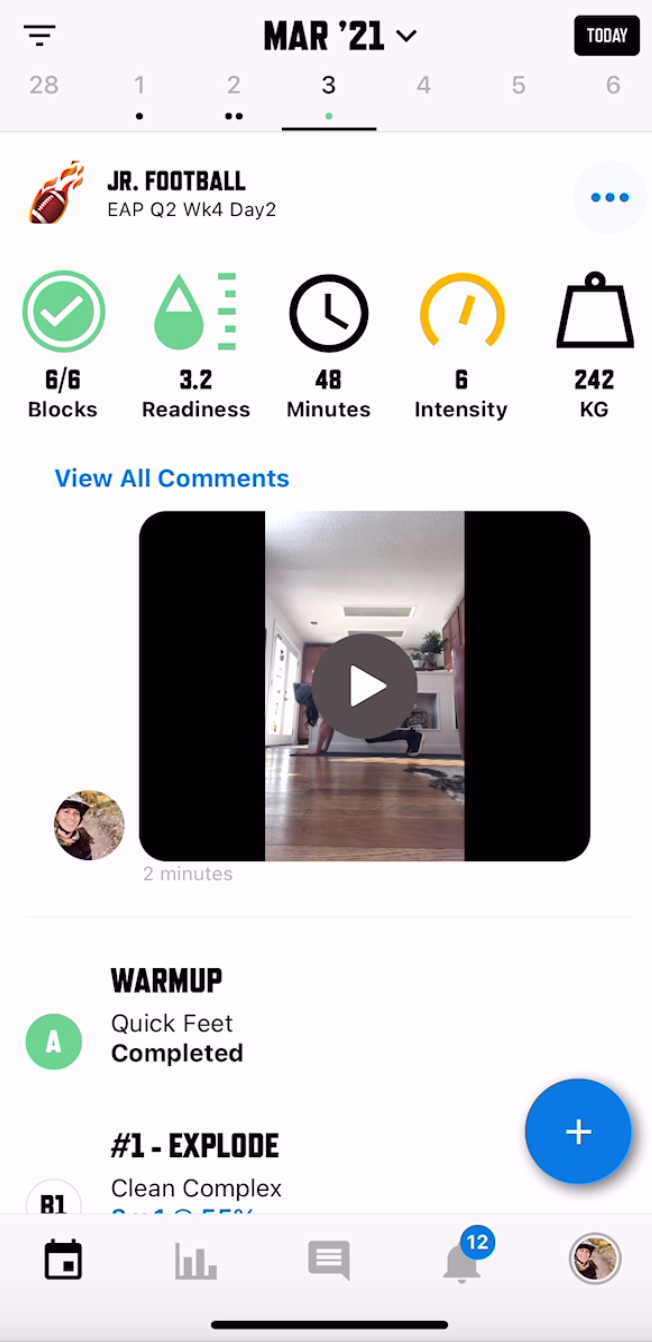 To post in Session Comments:
1. Navigate to the session in your training calendar
2. From the top of the session, select 'Comment on Session' if you're the first to post, or 'View All Comments' to open the thread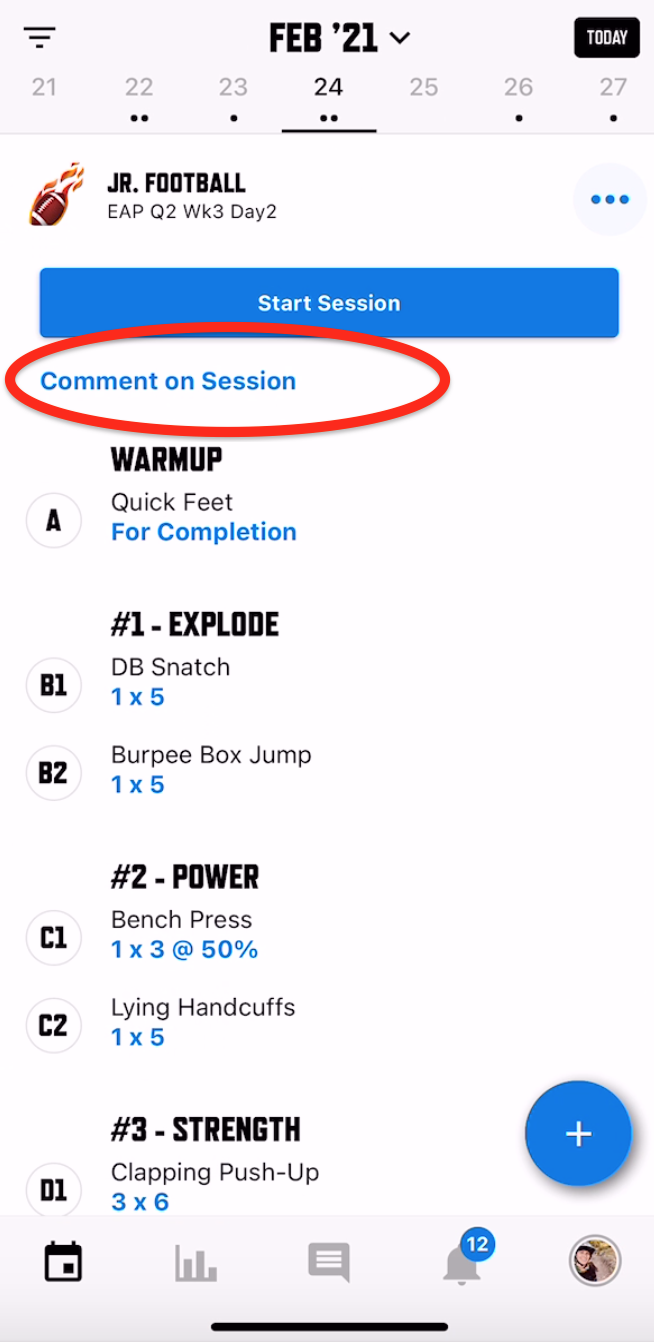 3. Select the camera icon to take a video, or upload one from your library
Note: Your video will be compressed and processed. Please allow a moment for your video to finish processing.
4. Add a comment and select 'Send'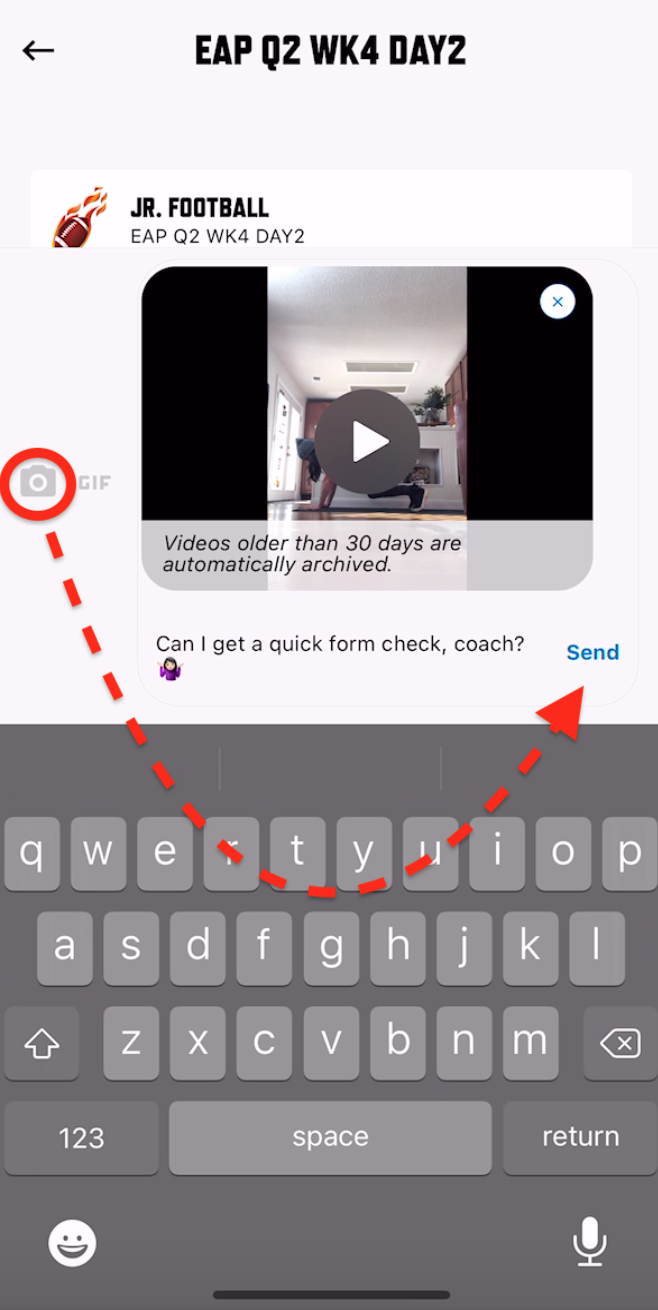 Upload longer videos to YouTube:
Videos are capped at 1 minute in length and will be available for 30 days. For longer videos, we recommend uploading them to YouTube and dropping the link in the Session Comments, or chat.
1. Upload your video to YouTube
First, you'll want to upload your video to YouTube. Use the privacy setting "Unlisted" or "Public." Private videos will not be available for your coach to view.
Pro Tip: We recommend using the YouTube mobile app, this way you'll simply record the video directly from the app.
2. Copy the URL link
Once you've uploaded your video to YouTube, copy the URL link for your video.
3. Past the URL into the Chat or Session Comments
From your TrainHeroic mobile app, select Chat from the menu to post to the group chat or direct message your coach, or head to the Session Comments of a training session.
Paste in the video link and include a message for your coach too.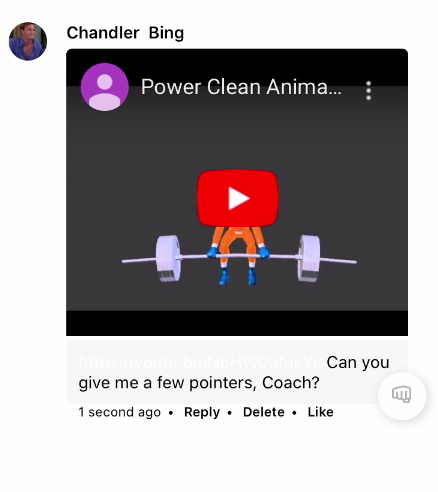 YouTube videos will embed in the chat or comments for your coach to review. They will also always be there for you to review and do not expire like uploaded videos.
Related Resources: