Nurture and grow your coaching business by encouraging conversation and community among your athletes.
In this article we'll discuss the differences between Session Comments and TH and how to leverage each.
Below you'll find information on:
What are Session Comments?
Session Comments appear at the top of a training session. They're there to support questions and feedback specific to the training session.
Your athletes can add Session Comments from the top of the session, or at the end of a training session on the Finish screen (shown below).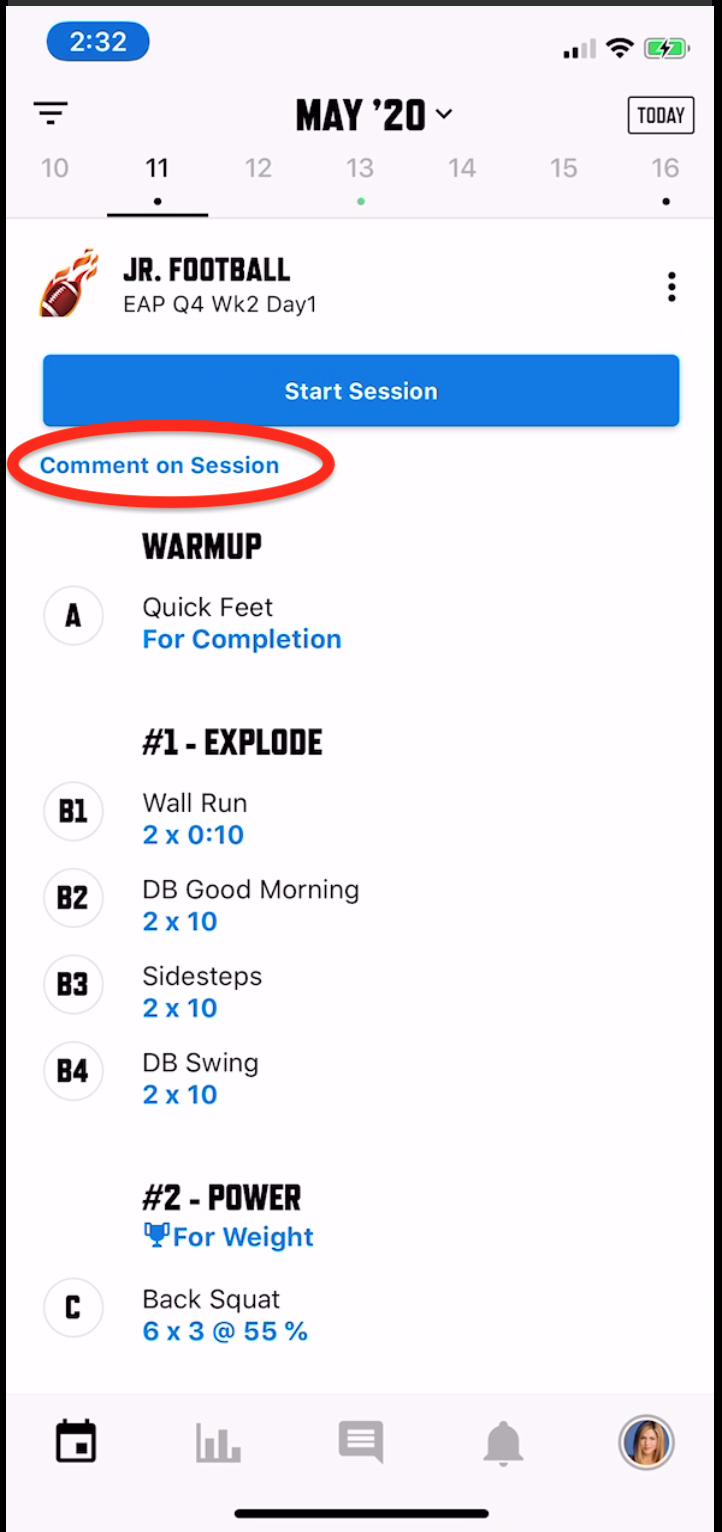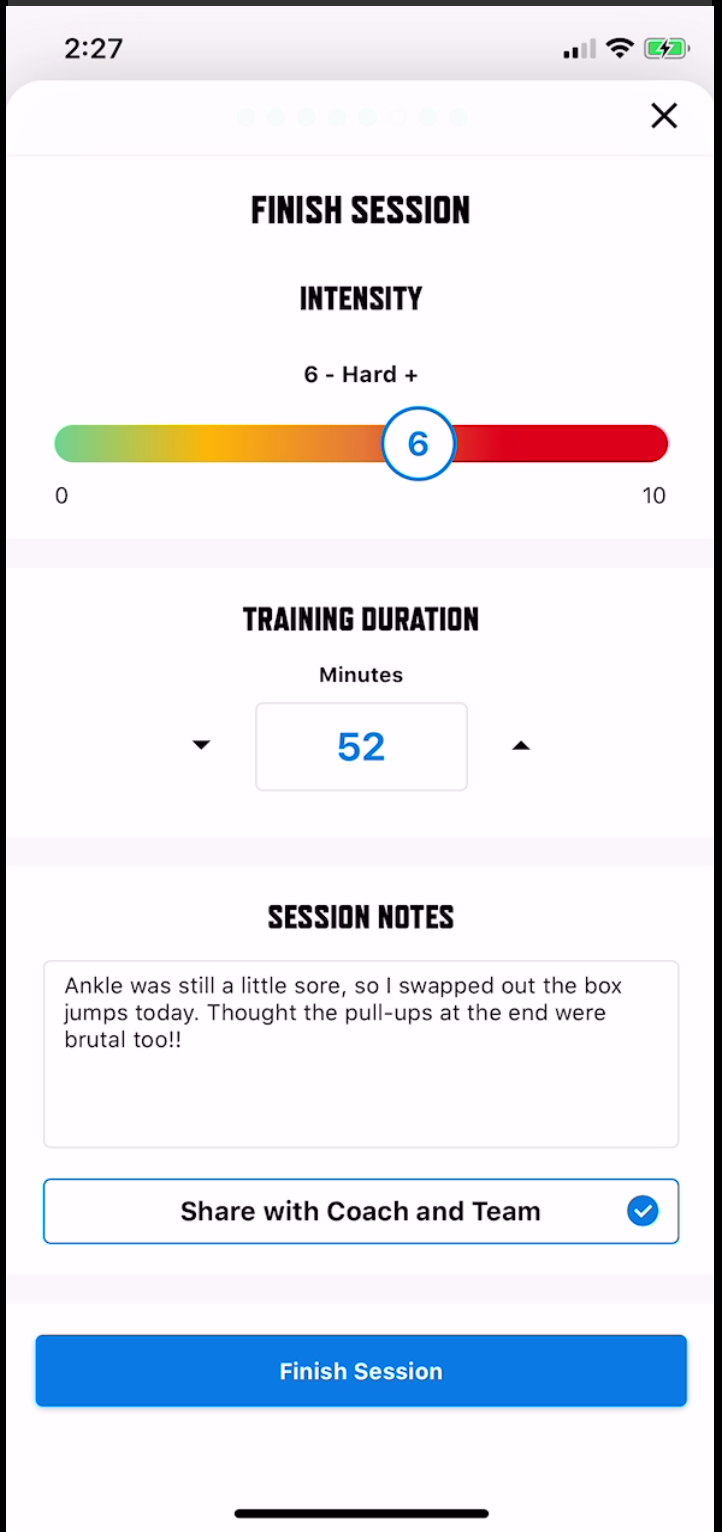 Session Comments might include an athlete's question around timing, scaling, recommended exercise swaps, or feedback on the intensity of the session. This is often where you will gain more insight into the numbers behind their Readiness or Intensity scores.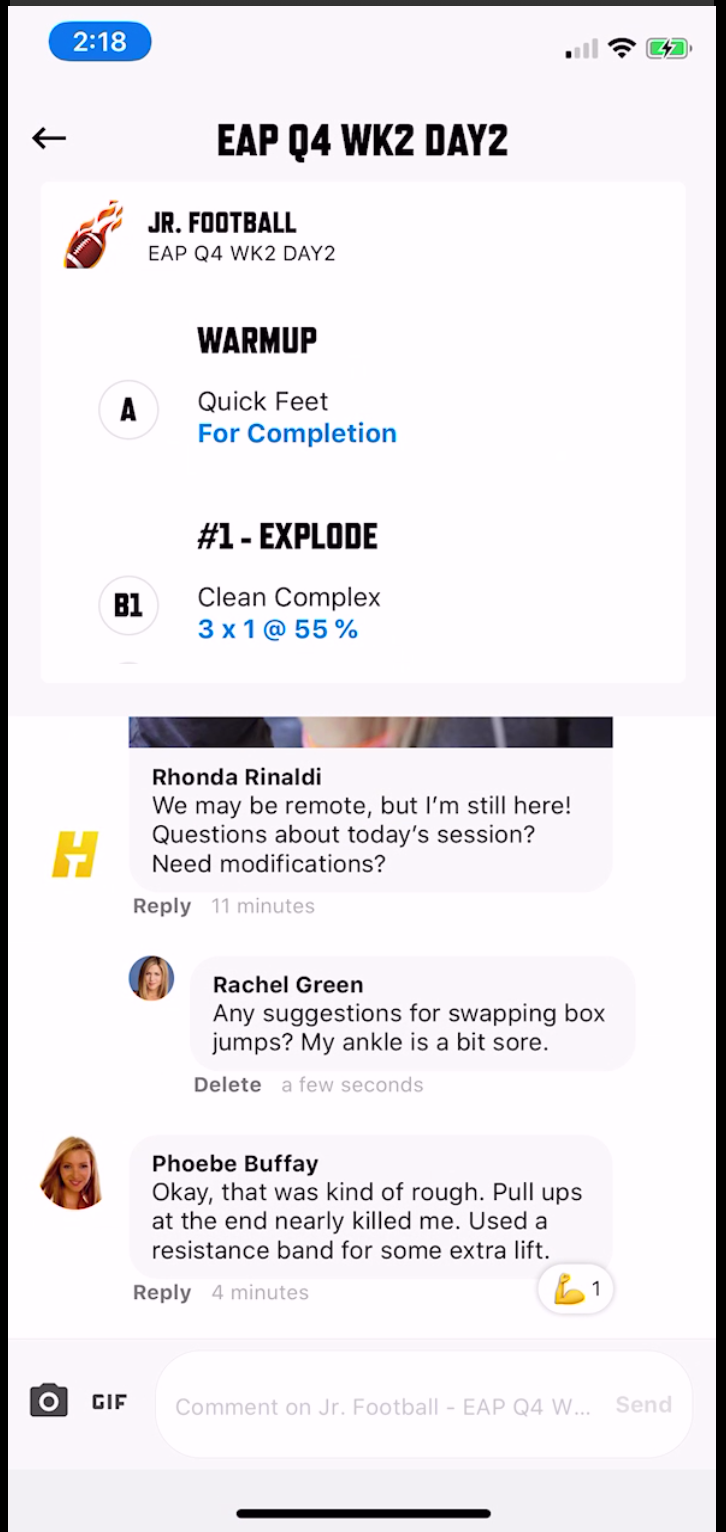 When an athlete leaves a Session Comment, you'll receive a notification to the Notification Center, both in web and mobile. The notification in the Notification Center will take you to the sources of the Session Comment so that you can react and reply with immediate feedback.
Note: Notifications in the Notification Center are specific to athlete activity around a training session, like Session Comments.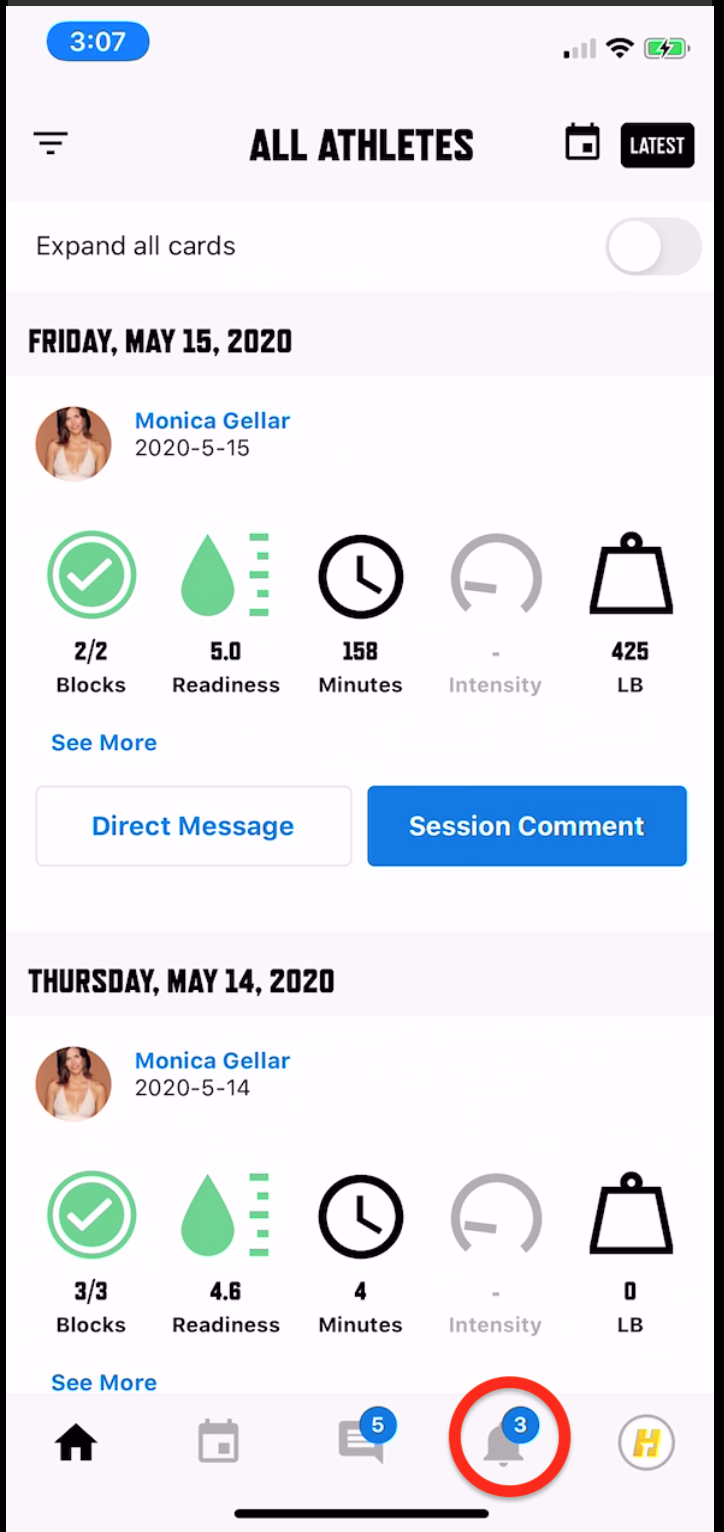 How to leverage Session Comments:
Set the stage for your athletes, encouraging questions and feedback around the training session by posting in the Session Comments.
You'll also be able to upload a video to the Session Comments, if you'd like to include a motivational pep-talk, quick new demo on any new movements, or general overview of the session.
Your athlete's will benefit from some face-time before kicking-off their session!
You may already have engaged athletes sparking conversation around the training session in the Session Comments - that's great!
If you're not seeing much activity there, you may need to ignite the flame. It might sound silly, but calling on your athletes for questions might be just the encouragement and clarity they're looking for.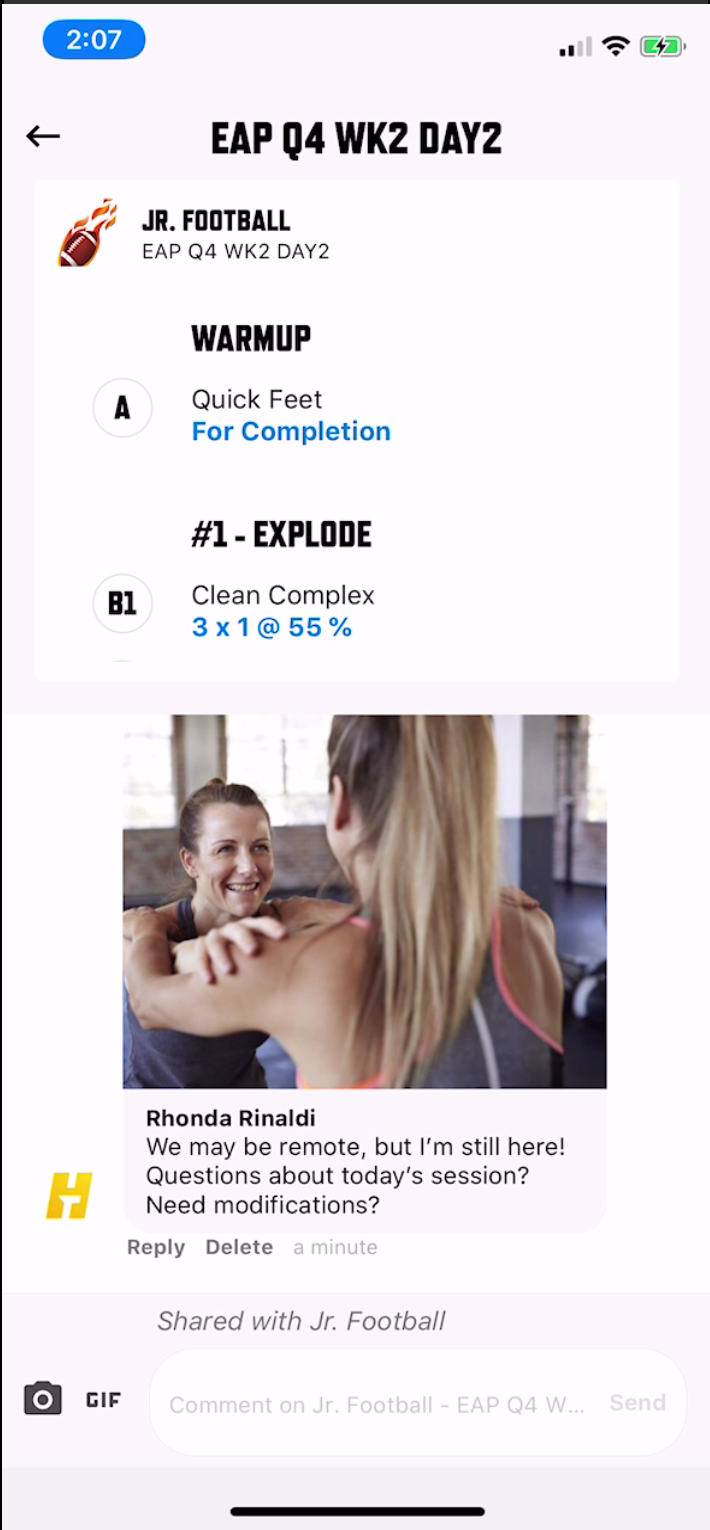 What is TH Chat?
TH Chat is your in-app text solution, for direct and group messages, so you can reach your clients at anytime. Unlike Session Comments, these aren't tied to a training session, and are located in your Message Center on web and mobile.
You'll be notified of any new messages to TH Chat, directing you to your Message Center.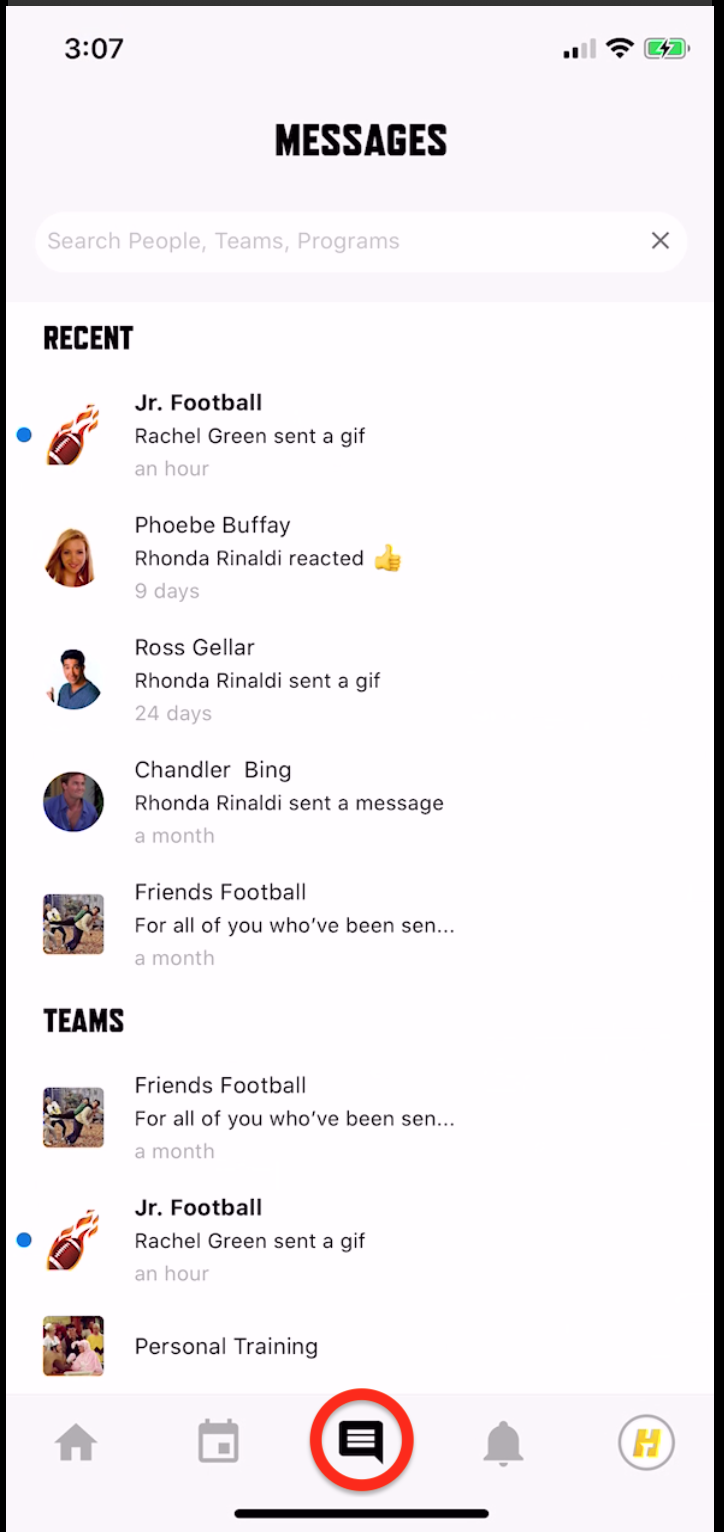 Your athletes will have the same TH Chat feature (shown above) in their mobile app.
How to leverage TH Chat:
TH Chat allows you to message an entire group of athletes at once, or have private conversation with an athlete.
When messaging with the team or group, you may use TH Chat for any general announcements or training questions. You may also use TH Chat to message athlete's directly for check-ins.
As a coach, you can curb what type of activity happens here, driving engagement, and offering a greater sense of value to your athletes.
Here are some ways to use TH Chat, above and beyond general announcements:
Host a live QA where athletes can rapid fire general questions about there training
Provide regular "office hours" where your team can post videos for form check, analyzed in realtime by you and your coaching staff
Share information related to your athlete's training, like nutrition guidelines
Post videos going over the goals for the current week's training
Check-in at random with GIFs, photos, or videos to get a pulse on your athlete's general wellbeing (your personal connection matters!)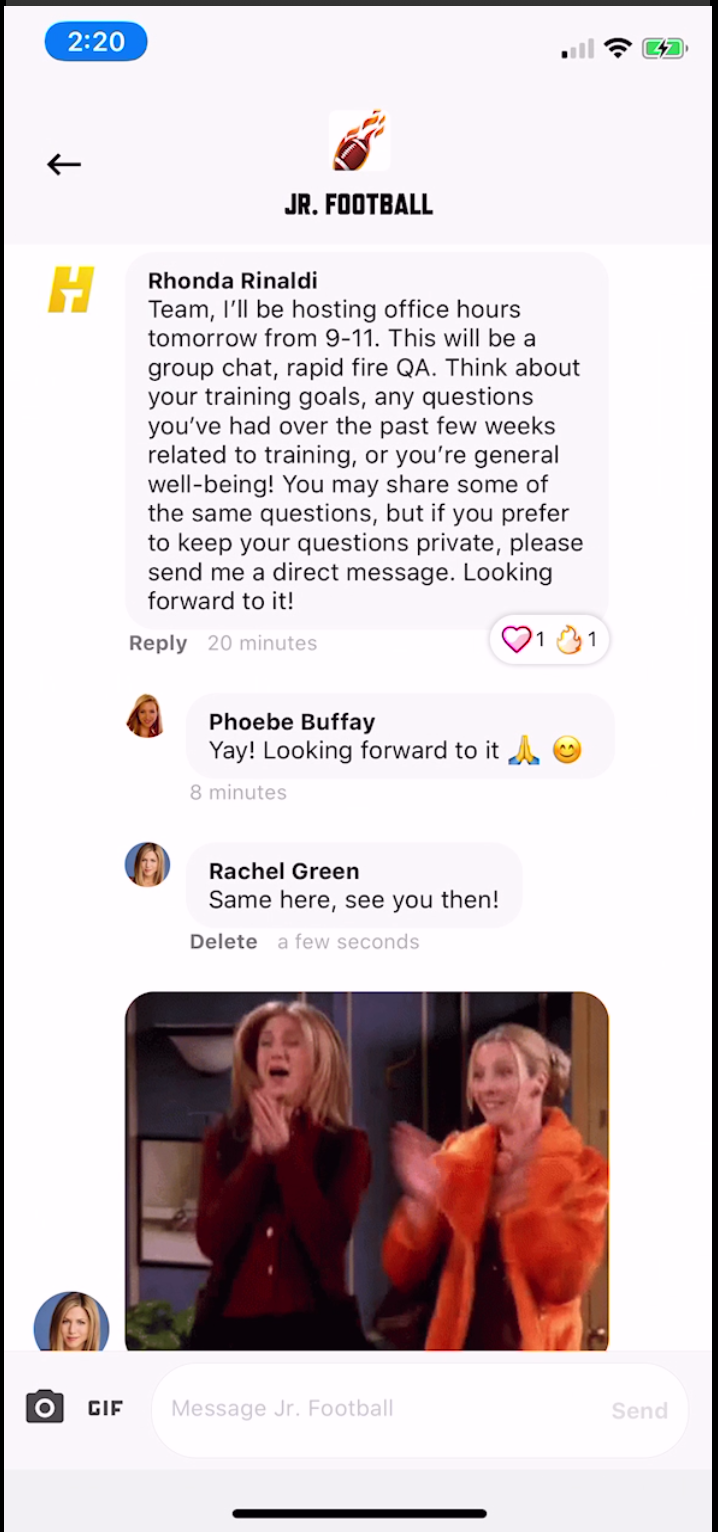 Pave the way for your athletes, by encouraging conversation in Session Comments and TH Chat. Let your athletes know what you're available for, how to call on you for questions and guidance, and where to provide feedback. Share your expertise and resources to help them be their best.
Related Resources:
Questions? Email us at support@trainheroic.com.