Once your athletes have logged, it's your turn to review the data, start conversions with your athletes, and make informed decisions to guide your athletes toward their training goals.
There are a few different places to review your athletes logged data, depending on the information you're looking for.
Start broad, then narrow your search.
1. Compliance
If your athletes aren't logging, you won't be able to review and share their progress. From Analytics, Compliance gives credit to those who put in the work and highlights those that might need a spot. You'll be able to review how many sessions they've completed against what was prescribed within date range, even down to the block level.
2. Readiness Survey Analytics
Readiness Surveys are a great place to start. Here you can identify who's logging, trends in their training, and turn any notable lows (or highs) into an opportunity to begin a conversation with your athlete. Click HERE for more information on Readiness Analytics.
3. Training Summary Analytics
Next, overview the team's training daily summary, then select individual athletes' names to drill into the specifics over the past 30 days. Here we'll review how much the athlete is lifting, how long it's taking them to complete their sessions, and the intensity perceived. You may use this feedback to adjust their programming based on their progression. Click HERE for more information on using Training Summary Analytics.
4. Analytics for Lifts
Everything you need to know about a given lift, from a full history of all logged values, to progress over time, to best performance. We'll also provide insight into when their working max was updated, and by what method. Finally, you'll also be able to see the team or group's estimated 1RM for a given lift. Read more HERE.
5. Classic Benchmark and Activity Reports
Tracking any specific lifts or benchmarks? Our Benchmark Progress Report will display the percentage change for a benchmark over a given period of time. Snapshot will display where the athlete is currently at, for a given date. And finally, Participation will allow you to see which of your athletes on a team are logging, and those that could use a nudge. Click HERE for more.
Note: Our Classic Reports will be slowly (and carefully) replaced by our new and improved Analytics.
6. Review the Coach Home Activity Feed.
With your coach login, you'll be able to access your athlete's training to view their logged sessions, Readiness Surveys, and any comments they've left for you from the mobile app.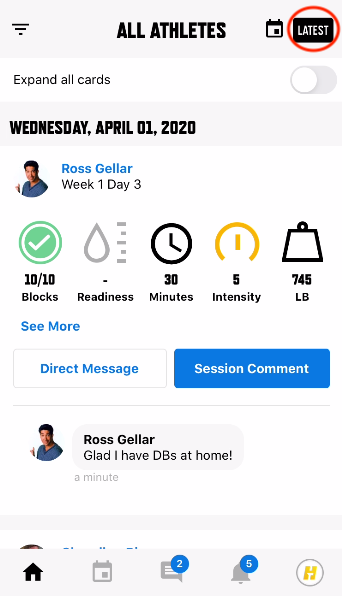 Click HERE for how to use the Coach Home Activity Feed.
7. Review Individual Team and Athlete Summaries from the Web.
At a glance, you can review your Team's average readiness, time, and intensity reported directly from the calendar overview with the scorecard displayed at the top of each session.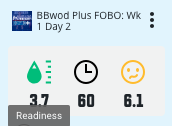 From the athletes calendar, you'll also be able view their individual scorecard at the top of each 1:1 session. Hover over any Team session for their detailed logged results OR select a 1:1 session to view their logged results.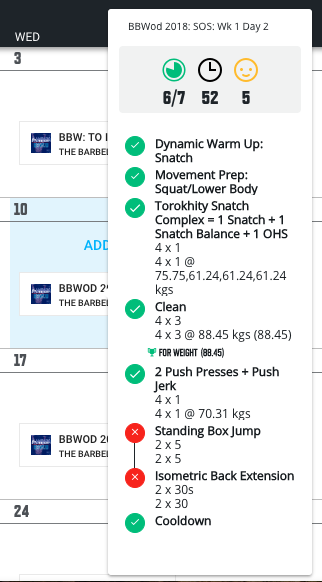 It's important that you setup a regular cadence of reviewing your athlete's data, sharing their progress, and setting new goals. Make a plan, share those plans with your athletes, and follow through.
Related Resources:
Questions? Contact support@trainheroic.com.