Showing clients their progress helps you demonstrate the value that you're providing them and will ultimately drive the health of your business.
In this article we will discuss three best practices for gathering and reviewing data with your clients.
The process of reviewing logged training data can help you start conversions with your clients as well as help you make informed decisions as you guide your clients toward their training goals.
To learn more specifics on how to pull data and analytics please click here.
1. View athlete participation and follow up with clients that are not logging
If you want to help your clients grow and in turn grow your business, you need to be informed about what they are doing.
Specifics for individual clients are viewable via their 1:1 calendar and the Coach Home Activity Feed.
Refer athletes to the TrainHeroic Customer Success team if they are having any issues logging in or accessing the training sessions. We're available at support@trainheroic.com.
2. Stay in tune with your clients by creating time and space to review data
You're busy, so schedule time to check in with your clients and see what information they are giving you. Set aside 10-15 minutes each day to comb through your Coach Home Activity Feed. While there, look for things like irregularities in readiness responses, view and respond to comments from clients as well as review their sessions to see if they are skipping blocks or swapping exercises for some reason.
By reviewing this information on a regular basis, you'll be tuned in to your clients needs, better understand things that may impact their ability to train, know what is or isn't working for them and will be able to make adjustments as needed.
To dive deeper into your client's sessions, use the Analytics tab to view Athlete Readiness scores and Athlete Training Summaries for selected date ranges. There are also a variety of analytics reports available if you'd like to dive into lift progress specifically.
Training Summary as seen from coach home: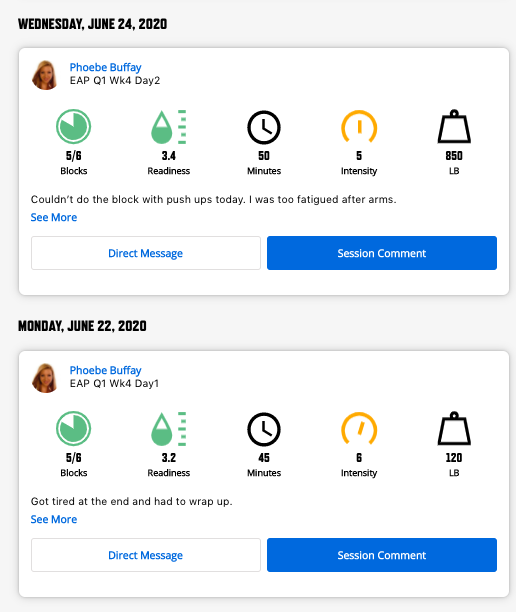 Readiness Analytics show that low readiness scores are attributed to low sleep and energy scores:

3. Share your insights with the client
This will look different from one trainer to the next, and how you communicate insights will depend on the number of clients you are supporting and their individual needs. Perhaps you'll use TH Chat to communicate regularly, meet for coffee after a session or simply discuss these insights during in-person sessions.
As their trainer, you should know what your clients goals are and can use the data to guide your conversation around those.
For example, if you have a client who wants to lose weight but you've noticed that they're only completing half of their sessions because they are too tired, you can guide them towards better nutrition and getting more sleep and set a time to check in on this topic.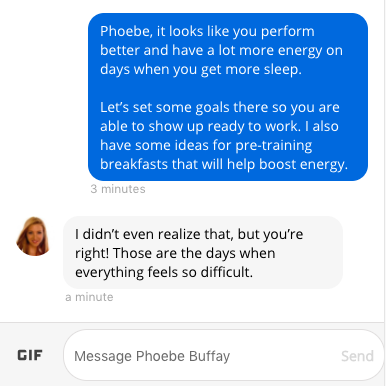 Related Resources: