"I'm an athlete, and I'd like to cancel my TrainHeroic membership."
If you've purchased a membership or subscription through the TrainHeroic Marketplace and would like to cancel your billing, you will be able to do so at anytime.
This article will walk you through how to cancel your athlete monthly or annual subscription for Marketplace Teams.
Note: If you're a coach needing to cancel, click HERE.
Note: If you purchased your subscription directly through Apple, click HERE.
Cancel your Team subscription or trial:
1. Log into the TrainHeroic mobile app.
2. Click on your profile image from the lower right and then select the settings gear on the top right.
3. Select 'My Training'
4. Select the trashcan icon to the right of the Team/Program to cancel your subscription or trial
5. Select 'Delete' and confirm your cancellation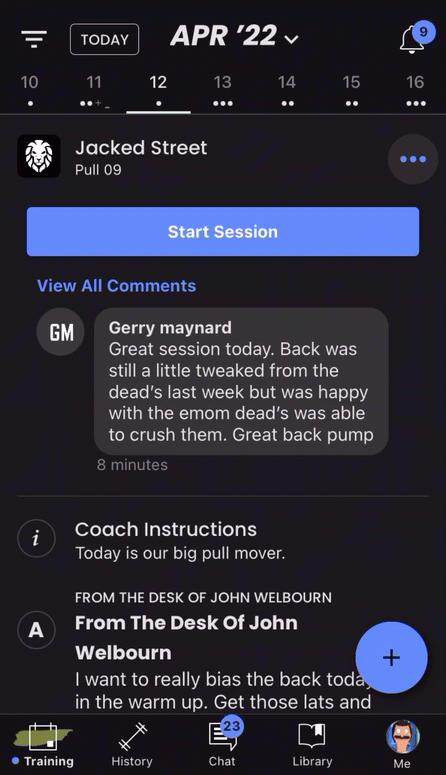 Your official cancel date will be reflected below the team name and you will have access for the remainder of your billing period. You will NOT be billed moving forward.
What does Cancel-pending mean?
After canceling, you'll retain access to the programming through your billing period. At the end of your current bill period, you'll be removed from the team/program and will not be billed moving forward.
We call this "Cancel Pending."
Need Help Cancelling?
If you're running into any issues cancelling your subscription, please contact our team by emailing support@trainheroic.com.
Please include the following in your email:
Your full name
Email address associated with your account
Verify the subscription you'd like to cancel
Please Note:
For TrainHeroic Program purchases, you'll receive lifetime access

If you're paying your coach directly, and not through TrainHeroic you will need to contact your coach to cancel your subscription.
Refund Policy:
For the protection of the author's intellectual property TrainHeroic does not issue refunds for Marketplace purchases.
Free trials are offered for select first-time subscribers, and all trial subscriptions must be canceled within the 7 day window to avoid charges.
To be considered for a refund due to extenuating circumstances, please send a written request to support@trainheroic.com within 24 hours of the purchase being made along with a detailed explanation of the refund request. Requests will then be assessed on a case by case basis at that point and may be approved or denied.
Please include:
Your full name
Email address associated with your account
verify the subscription you'd like to cancel
Leave Feedback:
If you'd like to share some feedback on why you're cancelling, would love to hear from you! You can leave completely anonymous feedback HERE.
Related Resources:
Questions? Contact support@trainheroic.com.