Learn how to use your own attribution and affiliate links to track sales as well as how TrainHeroic Matching can drive leads to you.
What are Attribution Links?
Marketplace Attribution links direct customers to your listings and ensures that you get credit for and track the sales you're driving.
Where do I access my attribution links?
To access your Marketplace Attribution Links:
Select your Organization Settings in the upper right, then 'Attributions.'
Note: In order to view Attributions, you will need to be Marketplace enabled and have the Marketplace Setting turned on for a Team or Program - your Teams and Programs must be live!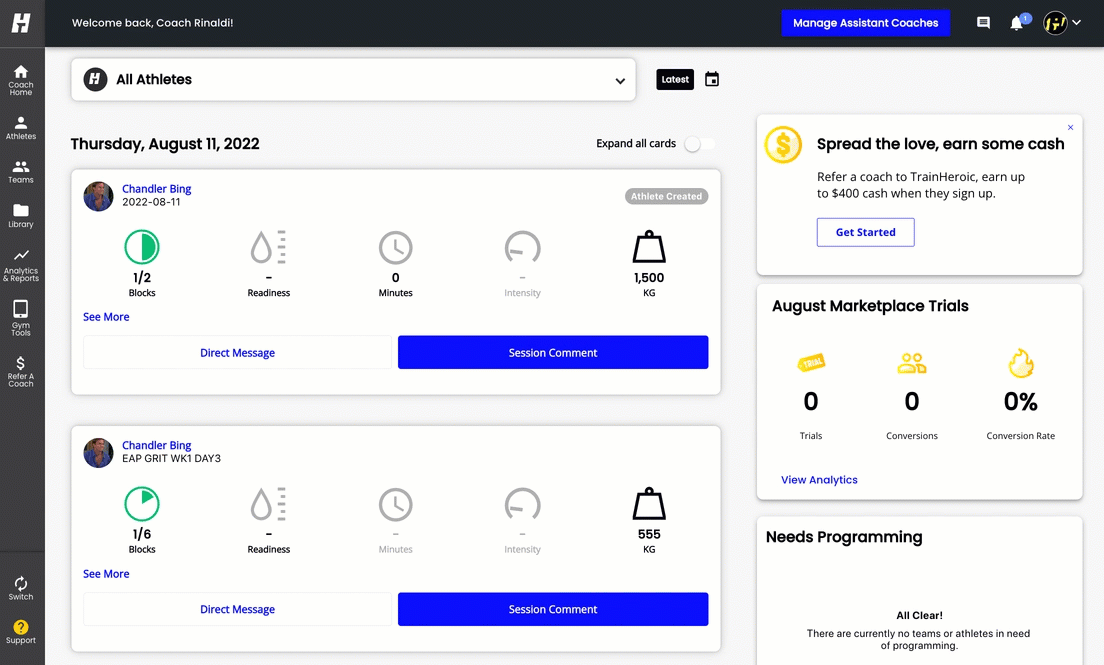 For a full demo, view the short video below.
Affiliate Links
Coaches have the ability to track exactly where their traffic is coming from. This can also be used for affiliate sales.
Have an athlete that is an all-star on your team and tells all their friends? You can now create a special affiliate link for them to share so that they can get credit for pushing athletes your way.
The fees for these sales will be $1/transaction + bank fees as the sale is attributed to someone associated with you as a coach.
Note: We will not manage any payouts to those who share your affiliate links, but it will allow you to quickly and clearly see how many sales were sent your way and you can then reward your affiliates however you see fit.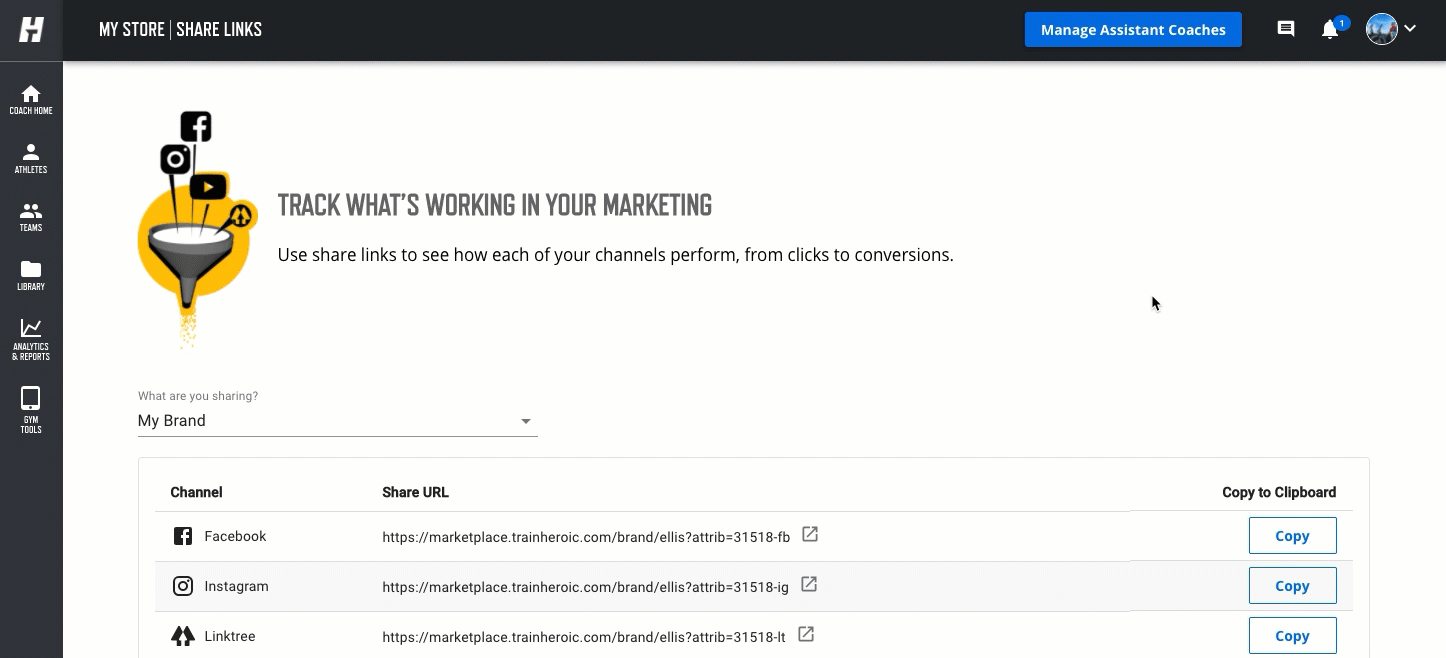 How does TrainHeroic's Matching Service Work?
TrainHeroic Matching drives leads to your Teams and Programs, so you can grow your customer base beyond your reach.
By selling through the TrainHeroic Marketplace you'll get the benefit of participating in TrainHeroic's Matching service, where TrainHeroic will drive traffic and sales toward the Marketplace, some of which may decide to purchase a subscription to your Team or buy your program.
If, and only if, TrainHeroic makes a sale for you (we call these "Matches) you'll keep 70% of that sale, less the bank's credit card processing fees, instead of the typical $1 per month per member (for teams) or the typical $1 per month of programming (for programs).
Marketplace fees are dependent on whether the sale was attributed to your unique sales link.
Any sales not attributed to your unique sales link are attributed as a Match made for you by TrainHeroic.
TrainHeroic drives traffic into the Marketplace ecosystem. Each time this traffic converts to a sale, we take a 30% fee for each transaction attributable to our efforts, in addition to a small credit card processing fee (

2.9% plus $.30)

.
This service is made possible by the tracking magic built into our Checkout Attribution solution. We provide full transparency into which sales you drive vs. those TrainHeroic creates on your behalf in your Attribution Analytics.
FAQ:
When did Matching and Checkout Attribution go live?
Matching went live June 2021. If you've been a longtime seller and haven't updated your links yet, be sure to update your links ASAP to ensure you're receiving full credit for your self-driven sales!
What happens with legacy sales made before Checkout Attribution went live?
100% of recurring sales made before June 2021 will be fully attributed to Coaches and maintain $1/monthly sale rates.
If I drive a customer and that customer simply switches from one of my teams to another, what happens?
Customers attributed to your account who switch products, but remain within your organization will persist the original attribution and maintain $1/monthly sale rates .
How does TrainHeroic make sure I'm getting full credit for sales driven from my website?
Sales that do not leverage Checkout Attribution links, but are driven from an external site (matching the domain listed in your account settings) will be attributed to you.
I see a checkbox for "Direct to Checkout." Why would I select that?
We recommend sharing the Direct to Checkout on your channels only in cases where users are heavily informed of what they're buying.

Most often, this is only when they're coming directly from a sales page living on your website, which provides all the relevant information necessary for them to make an informed purchase (in all other cases, we recommend using the standard product detail page links provided).
If a customer uses my attribution link to visit one of my products, but purchases a different product from my brand, do I still get credit for the sale?
Yes. We use cookies to ensure attribution stays with the user no matter where they navigate in the marketplace. Once the user converts via a purchase, we tie that attribution to the purchased license in our database.
Related Resources: