StackUp is a tool that helps bring out your best by giving you points of comparison and injecting light competition into everyday training.
As you get better, you'll see your rankings improve and celebrate your progress on your training journey. StackUp also provides bits of motivation when you're close to a PR and helps you see that all of your daily training progress adds up.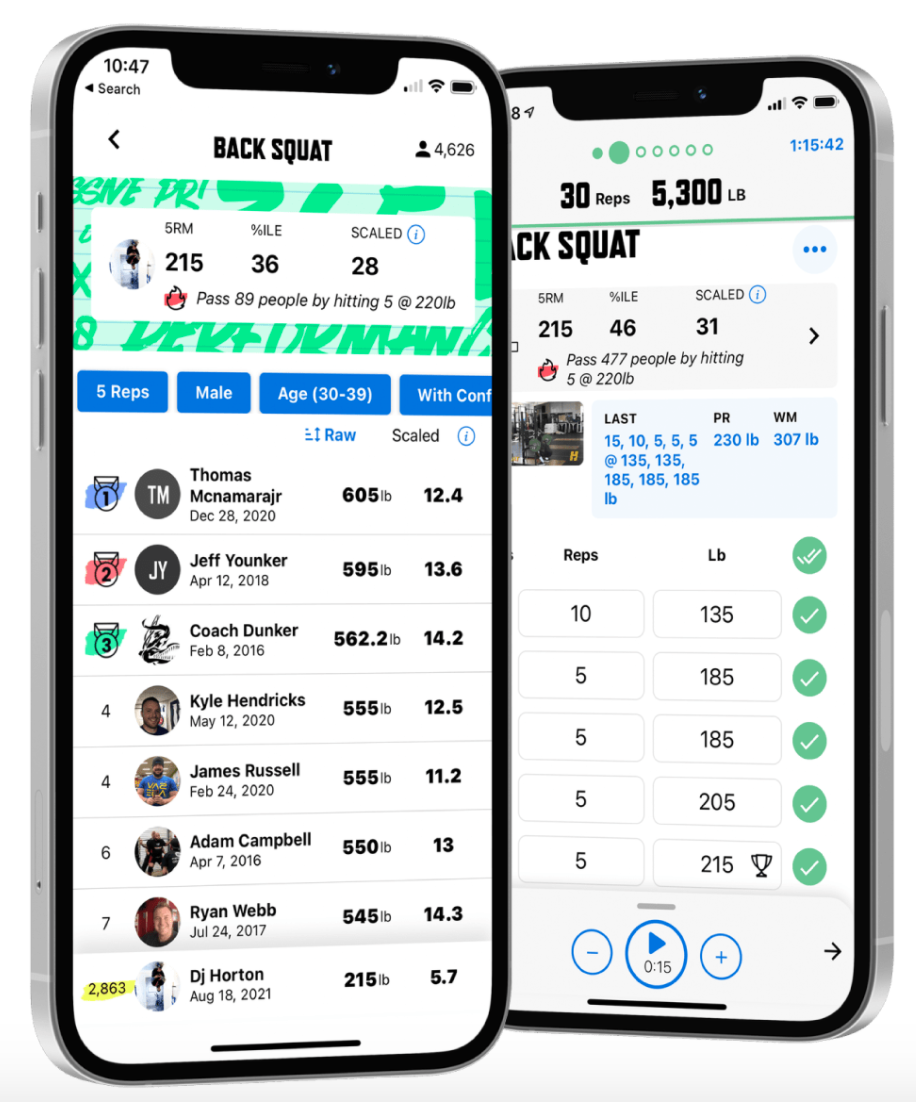 FAQ
I've noticed these little trophies popping up. When does that happen, exactly?
These are to show you when you achieve a new rep max for that exercise. This is tied to your StackUp data, so TrainHeroic looks for sets logged for the exact number of reps. We only list performances of exactly 8 reps on an 8RM leaderboard, for example.
What is a "scaled" score?
This is a way of expressing your performance relative to your body weight, so that people of different body weights can be compared.
You're probably familiar with strength to body weight ratios, and those make sense in some circumstances. For example, a standard such as squatting 2x body weight makes sense if you're interested in how well an athlete can move their body and absorb forces.
When you're comparing the lift performances of athletes of different sizes, this no longer makes sense. Smaller lifters are generally capable of lifting higher multiples of their body weight. In other words, performance does not increase linearly with increases in body weight, so dividing by body weight places larger lifters at a disadvantage in this comparison.
To avoid this, TrainHeroic uses a nonlinear formula that places lifters on an equal playing field. This is similar in concept to a Wilks score, but avoids some of the biases of Wilks scores and other similar formulas. Wilks scores tend to favor athletes at the extremes of the body weight spectrum, for example.
Why are there weird decimal weights on the leaderboard, like 55.1 lb?
Decimals can get introduced when a weight is converted between unit systems. 55.1 lb is equivalent to 25 kg, for example. If you are viewing the leaderboard in pounds, then you will see kilogram values that have been converted to pounds (and vice versa).
I don't want people to see my data! How can I keep it private?
You can adjust your privacy from your account. The blue link here will walk you through Adjusting your privacy setting in-app.
What does TrainHeroic do to make sure StackUp data is accurate? Why should I trust this data?
We use the data that athletes routinely log in their training to build our data sets. One thing we do is look at an athlete's overall logging behavior for an exercise to validate their entries. As an athlete, you can enter anything you want, but we won't necessarily show that to other people.
Often, the top scores on the leaderboards were logged by very good athletes. Some people are amazingly strong, and some of them specialize in lifting heavy things. We have manually validated some of the top scores for primary exercises, for example, and have found them to have been entered by some of the best strength athletes in the world. Many of these lifters have publicly-available competition results that corroborate their leaderboard scores.
Yes, sometimes bad data will get through. That's part of the game with using very large, user-generated data sets. Overall, the intended purpose of StackUp is not to "win" but to see how you generally "StackUp" against other athletes, and measure your progress in a unique and satisfying way.
Related Resources: