While Teams are generally a way to deliver programming to a group of athletes, they can also be used for organizational purposes.
In most cases, a Team will represent a group of athletes who are following the same training, on the same schedule. That said, Teams can also be used simply just to "group" athletes, for the purpose of messaging or reviewing data in Analytics for a particular group.
When to use an "organizational" Team:
Most coaches will use Teams to deliver programming to a group, and 1:1 calendars to deliver individualized programming. However, there are some instances where Teams can be helpful to group athletes, even when you're not programming on the Team calendar!
For example, if you're part of a larger coaching organization with assistant coaches on your account, Teams can help to organize 1:1 athletes into groups according to coach.
The benefits of grouping 1:1 athletes on a team include:
Messaging a group of athletes through TH Chat
Pulling Analytics by Team/group
Reviewing your Athlete List by group
What does this look like?
Simply create a Team, called 'Coach C,' 'Personal Training Clients,' or whatever makes sense for the context of your group of athletes.
Athletes invited to the Team will still receive a 1:1 calendar for personalized programming, while also receiving the benefits of being on the team, mentioned above.
Pro Tip: In the instance you're inviting a 1:1 athlete to a Team, we recommend having programming ready to go, to be assigned to the athlete's 1:1 calendar once they accept the invite.
**If an athlete already appears on your Athlete List, you will be able to move them to the new Team from your account.
To add an existing athlete to a new team:
Head to the athlete's account and click on their name
On the drawer that slides out to the right, select Account
Scroll to the bottom of the account tab and enter the name of the new team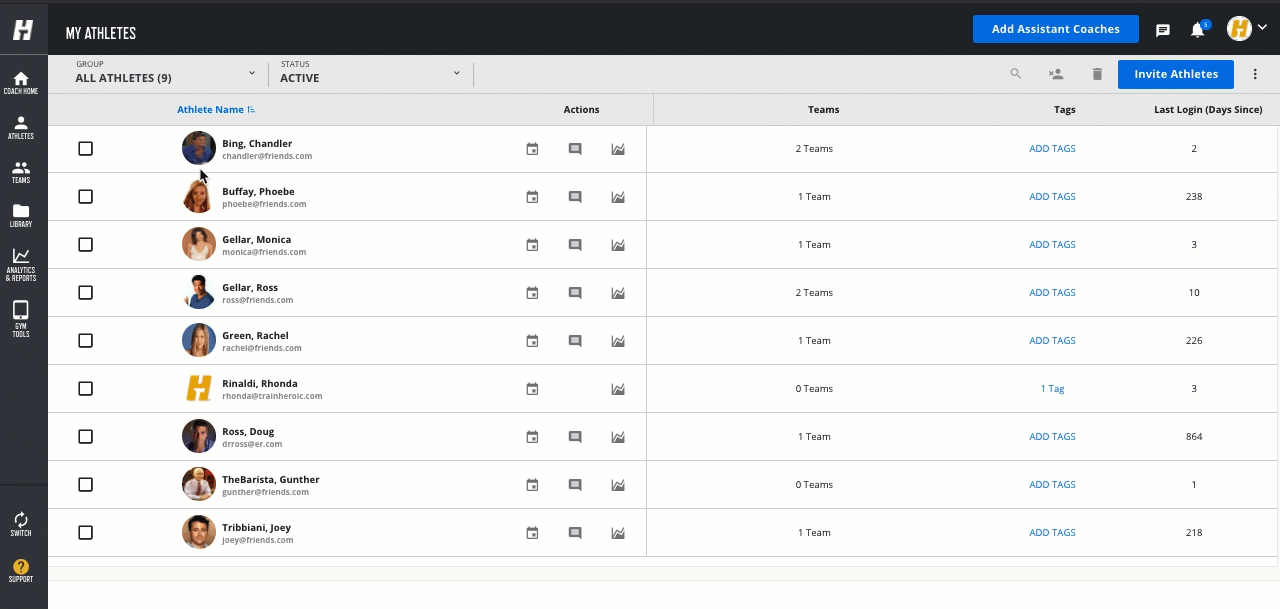 Related Resources: