Record your results as you train to keep track of your gains and receive feedback from your coach.
With the TrainHeroic mobile app, training is at your fingertips. Follow your coaches text and video instructions, record your results, and leave comments for your coach. Your coach will be able to provide you with feedback too!
Watch the video, or check out the text instructions just below.
Start your Training Session
To begin a training session, select 'Start Session.' This will kick-off your session timer, to time the duration of your training session.
Your training session will likely begin with a quick Readiness Survey, to assess your general readiness to train. This will provide your coach with valuable feedback to monitor your training.
Your coach may also include 'Coach Instructions,' to introduce the day's goals, or make any other announcements.
Log your Results
Review your coaches text instructions and click on video thumbnails for a demo. Mark sections as complete, or fill in the table prescribed by your coach.
If you receive a prescription or multiple sets from your coach, check off each set, or click into the table to add/edit your results using the keypad, then select 'Done.' The circles on the left will turn green as each set is completed.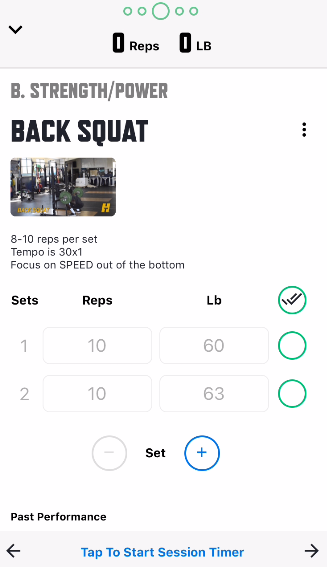 To add sets or remove any that you've added, click the + or - button below the exercise table.
Selecting the 3-dot menu in the upper right-hand corner of an exercise block will allow you to:
Add exercise comments
Swap exercises
View your history
Access a percentage calculator
View Exercise tips or points of performance
Add exercise to end of session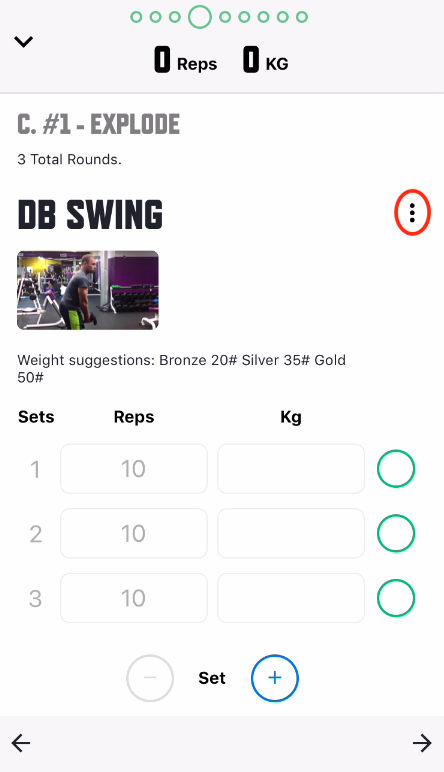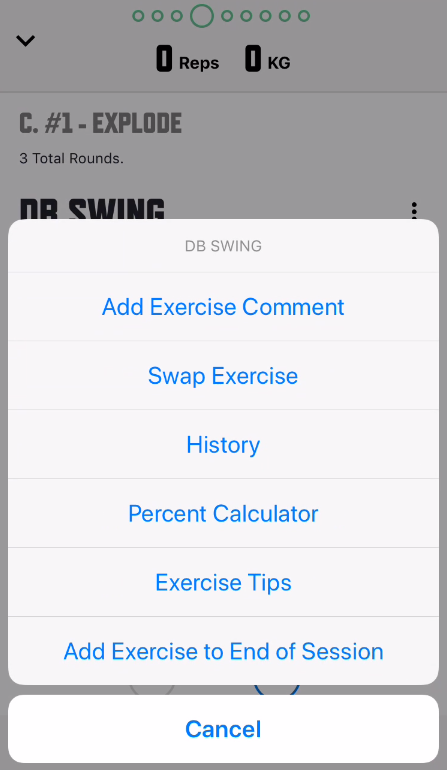 The arrows at the bottom of the page will allow you to navigate between different blocks of your training session. You'll also be able to swipe left and right to navigate.
Once you reach the finish, report back to your coach on the perceived intensity of the session using the sliding scale, make any adjustments to the training duration, and leave Session Comments for your coach, or share with the coach and team by selecting 'Share with Coach and Team.'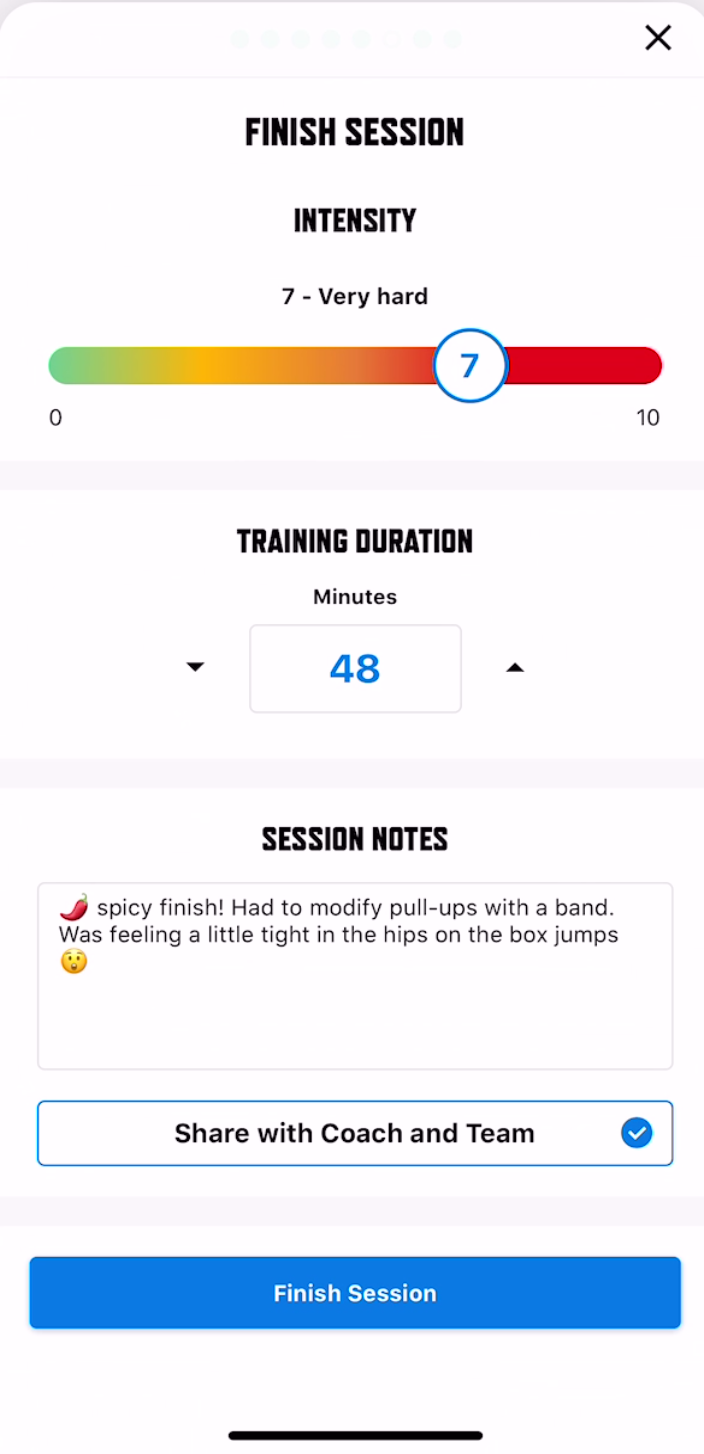 Note: You will be able to edit your logged results at anytime, by returning to the logged session, taping on the block, and re-entering your results.
Compete on the Leaderboard
If there is a Leaderboard section, enter your data and click on the button with the trophy icon. The trophy button will turn green once your score has been logged. This will enter your results onto a public Leaderboard, shared by athletes on your team. To view the Leaderboard, click into the space above the trophy button.
Note: When logging your score, there is a "Scaled" button. This is designed specifically for our CrossFit friends. RX means that the block was done as prescribed and Sc means that part of the block was scaled or modified.
Share your Stats on Social
Once you've selected 'Finish Session' you'll land on your Session Summary. To share your Session Summary on Instagram, select the Instagram icon in the upper left.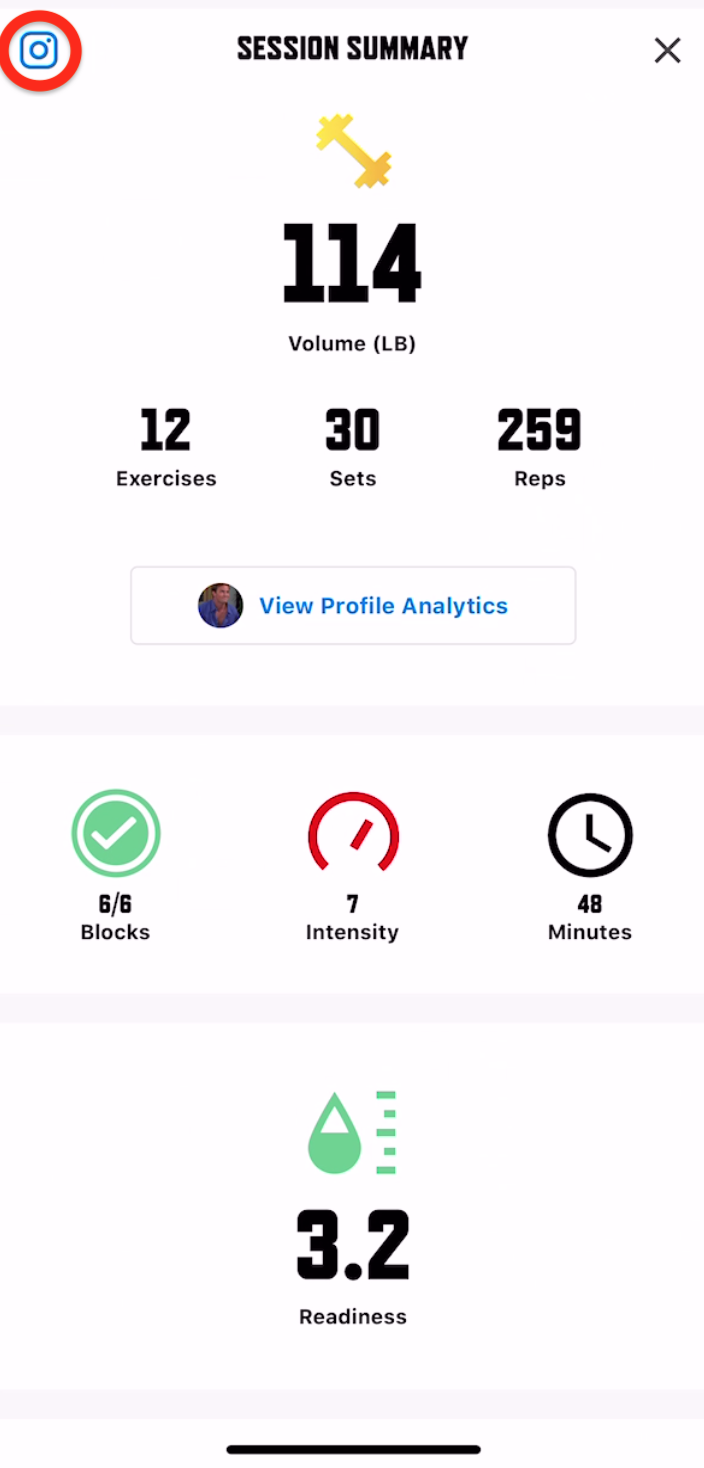 You'll also be able to select 'View Profile Analytics' to view your stats, or hit the 'X' in the upper right to return to your training calendar.
That's a rep!
Related Resources: