Scale your coaching business by inviting Assistant Coaches to your account.
Additional assistant coaches will allow your staff to share athletes, programming and coaching responsibilities within TrainHeroic.
Below we'll cover:
If you prefer a readable version, please click here.
Here's how you can add assistant coaches to your account:
Log into your coach account from the web, here
Select your profile image in the upper-right, then select 'Manage Assistant Coaches'
Select 'Add Assistant Coach'
Enter their email address and choose 'Invite Coaches'
The coach will then receive an email invite. Once they accept the invite and log into their account, your monthly fee will automatically be adjusted.
Note: Only the head coach or designated organization owner will have the ability to add additional coaches.
\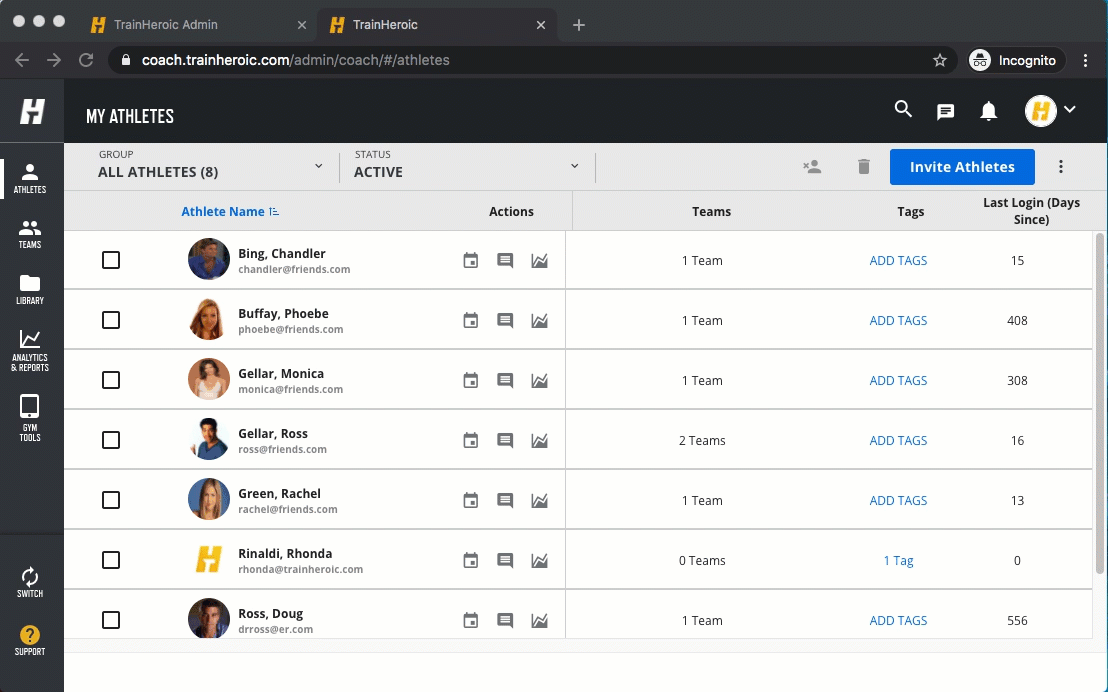 How to remove assistant coaches or delete an invite:
Log into your coach account from the web, here
Follow this link to access your Assistant Coach Management Settings: https://account.trainheroic.com/assistant-coaches
Select 'Remove Coach' or 'Delete Invite'
Removing an assistant coach will revoke their coaching access immediately. Rest assured, if you invite a new assistant coach to take their place, you will not be double-charged for the same bill period.
What will assistant coaches have access to?
Your assistant coach will receive their own login for shared access to your account, as well as support from our team. Assistant coaches will NOT count toward your athlete count for your Coach Plan.
All coaches on the account will have access to the same Athlete List, Teams, and a shared Library. They will NOT have access to Organizational Settings such as:
Billing
Coach Plan (Subscriptions, downgrade/upgrade)
Assistant Coach Management
Marketplace Settings, Analytics, and Payout
Note: Basic accounts are not eligible to add additional coaches unless you upgrade to a paid coach account.
Pricing for Assistant Coaches:
Assistant coaches can be added to your account for $9.99/month per coach.
Related Resources:
Questions? Contact support@trainheroic.com.